Welcome to my website, created as a showcase for my wearable art.  What you see in these pages is a selection of my work that I have in my inventory.  Also, I am always happy to create custom designs using my customers' cabochons, memorabilia, etc. so please don't hesitate to write to me via the contact box with what you have in mind for your special design!

Most of the pieces shown below have already sold but I will be updating with new ones soon!
Don't forget to visit my  pages with Daryl Dixon (from TWD) inspired Sterling Silver Crossbow pendants, matching earrings, Angel Wings pendants.
~~~~~~~~~~~~~~~~~~~~~~~~~~~~~~~~~~~~~~~~~~~~~~
The designer cabochon of Opalized Tiffany Stone pictured in the pendant below,  is deep purple, lavender and cream.
The rareness of Tiffany Stone comes from the fact that to date, the only location it has been found is at the Brush Wellman Beryllium mine in western Utah. Tiffany Stone is found in nodules, some quite large, and they often have a white soft rind. In addition to Opalized Fluorite, this material may include Chalcedony, Manganese, Dolomite and Bertrandite, which contains the mineral Beryllium. This beautiful gemstone comes in an array of colors.  A purple, lavender, white stone sometimes with patches of mauve, yellowish-brown and black is found in beryllium ore. Tiffany Stone is said to help emotionally when going through changes. It is also said to help with business and career success.
Opalized Tiffany Stone wrapped in Sterling Silver wire ~ $225.00  SOLD

~~~~~~~~~~~~~~~~~~~~~~~~~~~~~~~~~~~~~~~~~~~~~~~~~~~~~~~~~~~~~
The attraction of the gemstone, pictured below, is its remarkable color. The vivid greenish blue material known as gem silica is quite rare, and high quality specimens are coveted by collectors and jewelry designers. The intense color is due to the presence of copper salts that penetrate the crystal lattice of colorless chalecedony. Though there are other copper-bearing gems that can display a similar color saturation, such as turquoise and chrysocolla, these are much softer stones. The term "gem" in "gem silica" indicates that this material is gem quality, and in fact it has a hardness of 7 on the Mohs scale and is suitable for all kinds of jewelry.  It is also referred to by the names chrysocolla chalcedony and gem silica chrysocolla.
This piece is AA quality, especially because of the Druze in the center of the stone.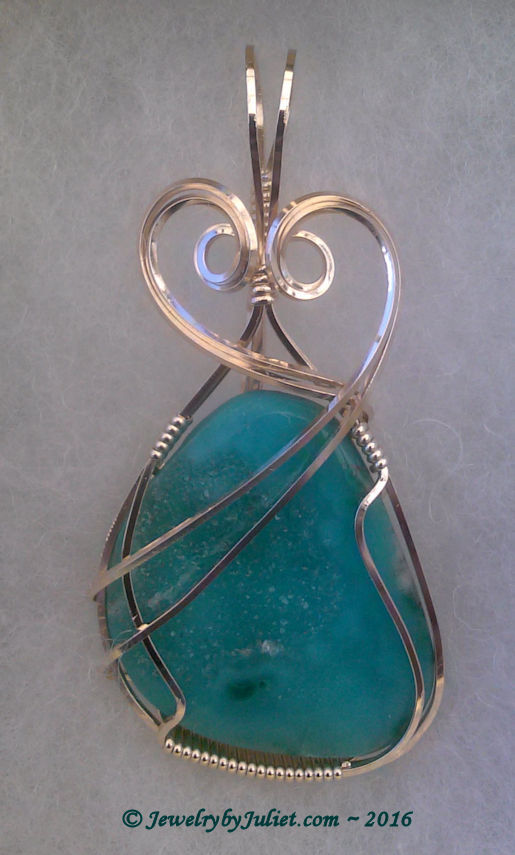 Gem Silica wrapped in 14Kt. Gold-filled wire ~ $500.00 SOLD
~~~~~~~~~~~~~~~~~~~~~~~~~~~~~~~~~~~~~~~~~~~~~~~~~~~~~~~~~~
The Spiny Oyster Shell and Turquoise Mosaic in the pendants pictured below, is a reconstituted product made by Colbaugh in Kingman, AZ. They take pieces of Kingman Turquoise and Spiny Oyster shell, add binding agents and a brass filler then compress under tons of pressure into blocks. The colors in this material are gorgeous!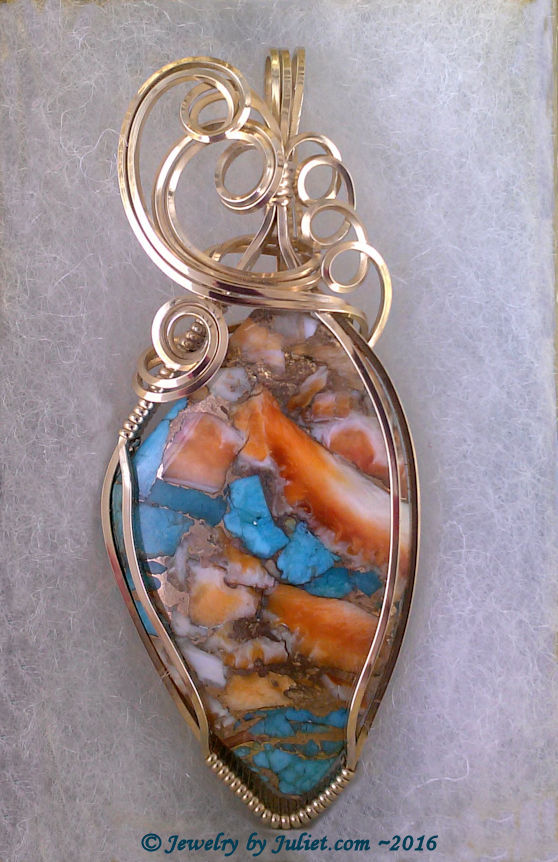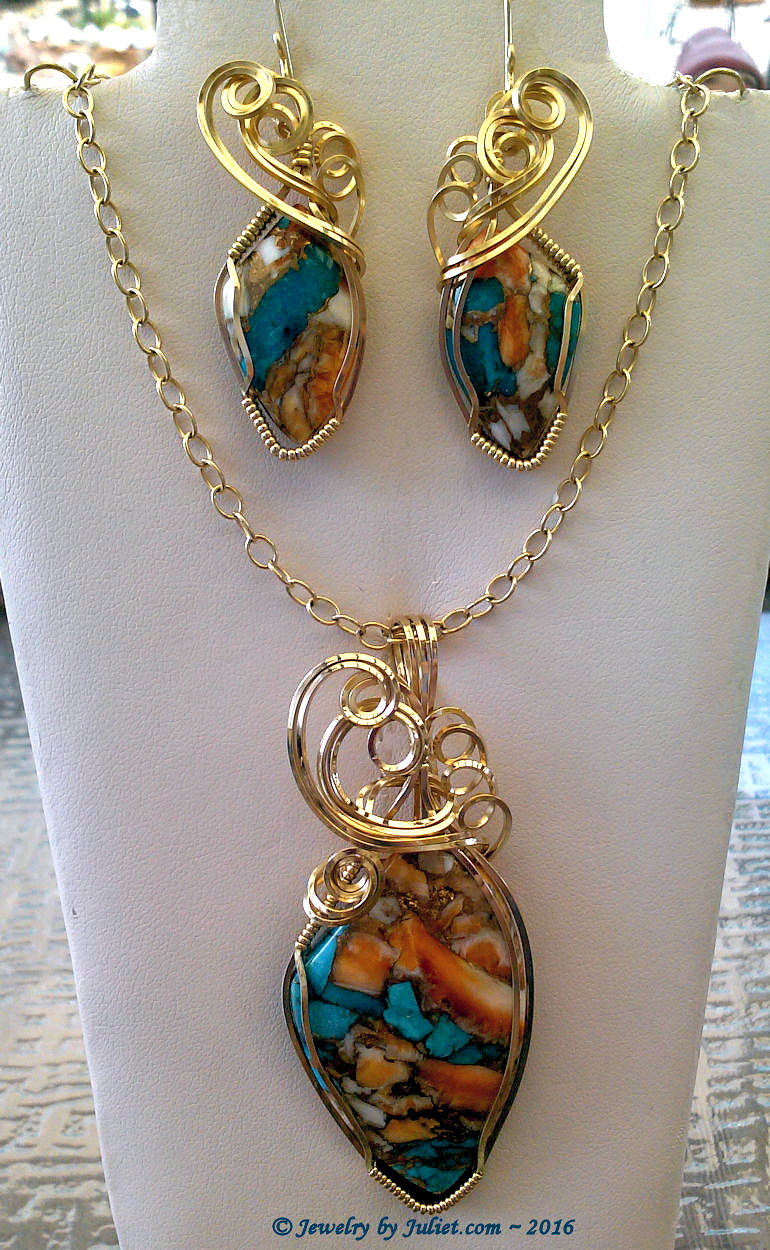 Spiny Oyster Shell & Kingman Turquoise Mosaic in Gold-filled wire  –  $175.00  SOLD
The earrings are still for sale – $125.00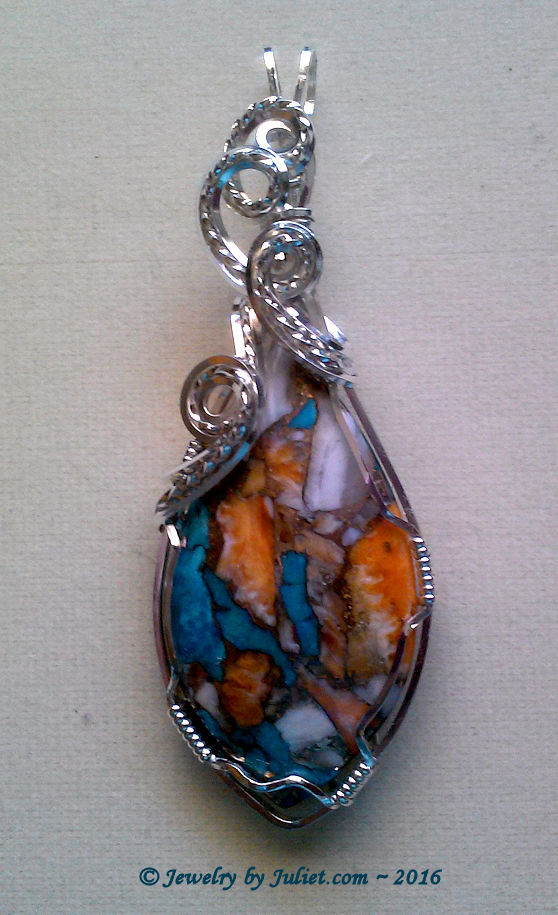 Spiny Oyster Shell & Kingman Turquoise Mosaic
in Sterling Silver wire  –  $155.00 SOLD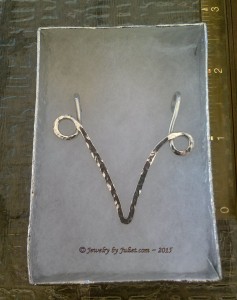 MY NAME JEWELRY PENDANTS ARE AVAILABLE IN STERLING SILVER OR GOLD-FILLED WIRE
from $25.00
Please contact me for your custom name jewelry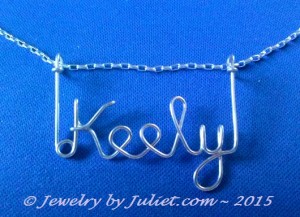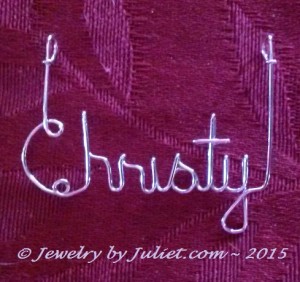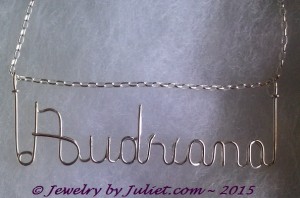 As a custom designer, I am able to create a unique piece of jewelry using my customers' stones and/or their vision.   So, if you have a faceted stone or a cabochon that you would like set in a pendant or you want that special piece designed,  just for you, please contact me.
All of my sculptured jewelry is created using 14 Kt Gold-Filled, Sterling Silver, Argentium Silver (Tarnish Free), or Natural Copper wire. There is no glue or other medium used – just skilled craftsmanship in sculpting the wire to hold and display the stones and their natural beauty.
~~~~~~~~~
Wire Definitions: Gold-Filled wire has a minimum of 20% 14Kt gold with a base metal filling (usually copper).  It wears exactly like Gold and the jewelry pieces created with it will become heirlooms if they are cared for properly.  It is less expensive than Gold which is currently hovering at around $1,100 per troy oz.   Gold-filled wire should never be confused with Gold Plated or 'Electro' plated where the base wire is coated with a paper-thin layer of gold which will wear off easily! Sterling Silver wire is comprised of .925 silver mixed with .075 alloy. Argentium Silver wire has slightly more silver content than Sterling (.930) mixed with alloy to render it tarnish free.