Custom Wire Sculptor.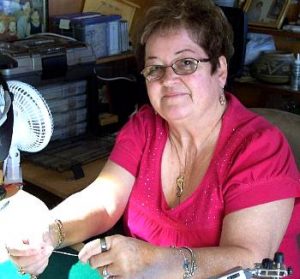 Hello, I am Juliet Dobosz and I specialize in designing and making custom wire-sculptured jewelry. When I retired a few years ago, I was looking for a hobby to keep myself occupied. My late husband, Ron Burgess and I had been avid rockhounds for the previous several years and had a back yard full of numerous rocks and minerals to prove it.  Inspired by Ron and by the need to use some of those rocks, I started delving into the world of wire-sculptured jewelry.
My hobby quickly turned into a passion – I had found my 'groove' and I happily created a large variety of jewelry and custom orders over the next few years.
My passion dwindled when my beloved Ron passed away after a lengthy battle with cancer.  He had not only been the initial inspiration for my delving into the world of wire-sculptured jewelry but was my partner in creating and maintaining our website at www.rockroost.com. It took me over a year before,  once more,  I began to create at my workbench.  I have been blessed with my new partner in life, Hank, who is a willing participant in helping me showcase my work in various venues.  Now my passion for creating has been rekindled and, with Hank's help, I display my work at several different shows throughout Arizona, including our local club's show in October. I developed this website to showcase my work.  Visitors can browse through samples of standard pieces as well as some of the custom work I have done and will be able to purchase items for themselves. So please stay tuned for further developments. Thank you for visiting. Juliet Dobosz ~ Wire Sculptor Extraordinaire