Welcome to my website ~ a showcase for my wire-sculpted art.  These pages reflect a selection of my work that I have in my inventory.  Also, I am always happy to create custom designs using my customers' cabochons, memorabilia, etc. so please don't hesitate to write to me via the contact box with what you have in mind for your special design!

Don't forget to visit my  pages with Daryl Dixon (from TWD) inspired Sterling Silver Crossbow pendants, matching earrings, Angel Wings pendants.
~~~~~~~~~~~~~~~~~~~~~~~~~~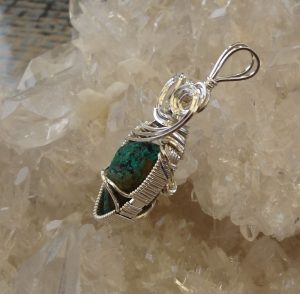 This little pendant is packing a lot of green…Malachite that is!  I took this cabochon and surrounded it with Sterling Silver, enhancing the stone, rather than hiding it's beauty.
Available for $110.00, a great price for any cabochon from the Ray Mine, Arizona, which still produces massive amounts of copper
~~~~~~~~~~~~~~~~~~~~~~~~~~~
Gem Silica, Malachite with Azurite Pendant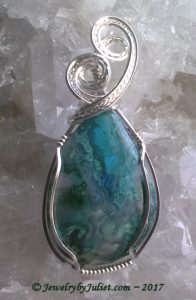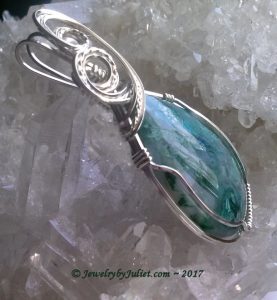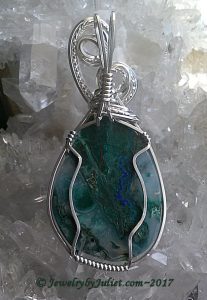 The Pendant shown in this group of photos incorporates a really unusual cabochon of Gem Silica, Malachite, with a touch of Azurite.  Wrapped in Sterling Silver to highlight the gorgeous array of colors, it is priced very reasonably at $225.00.
~~~~~~~~~~~~~~~~~~~~~~~~~~~~~~~~~~~~~~~~~~~~~~~~~~~~~~~~~~~~~~
Wire Definitions: Gold-Filled wire has a minimum of 20% 14Kt gold with a base metal filling (usually copper).  It wears exactly like Gold and the jewelry pieces created with it will become heirlooms if they are cared for properly.  It is less expensive than Gold which is currently hovering at around $1,288.00 per troy oz.   Gold-filled wire should never be confused with Gold Plated or 'Electro' plated where the base wire is coated with a paper-thin layer of gold which will wear off easily! Sterling Silver wire is comprised of .925 silver mixed with .075 alloy. Argentium Silver wire has slightly more silver content than Sterling (.930) mixed with alloy to render it tarnish free.