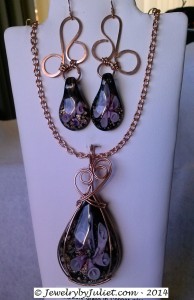 This set is made using lampwork beads and natural copper wire.
The matching pendant is in wire-sculptured copper wire.  $59.95 including 16″ copper chain
The earrings are available separately for $39.95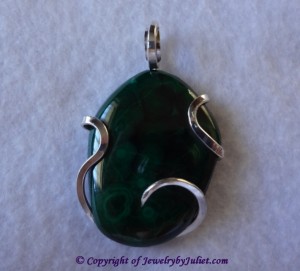 $65.00

Please click the "add to cart" button, below, to place your order now:
In this beautiful, free-form Malachite pendant there appears to be pools of deep green water, as if someone has just been tossing pebbles into it!  It is set in Sterling Silver and would be a  luxurious addition to either a business or leisure outfit.  It measures 1 3/4″ tall by 1″ wide.
This square cabochon (from India) measures 34 mm x 34mm (slightly more than 1 1/4″).  The finished pendant measures 3″ tall. Ruby in Fuschite consists of ruby crystals ranging in color from pink to red, encased in bright green fuschite, (the host rock).  Moh's  Hardness Scale ranges from a 6.5-9 $99.95
This pendant features a Mohave Turquoise Teardrop Cabochon set in Gold-filled Wire. $94.95 The matching earrings for this pendant are shown on my Ladies earrings page Mojave Turquoise is a created composite.  Kingman Turquoise is the main ingredient, combined with Brass and other materials to produce a beautiful stone