Juliet has been creating custom made Mothers Jewelry, including pendants and rings, for the past 7 years.
Mother's Pendant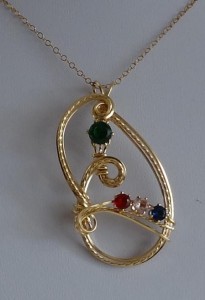 Mother's Pendants are designed with the mother's 6mm faceted birthstone as the focal point of her pendant.  Each child's 4mm faceted birthstone is added in birth order, to compliment the mother's. 
Base Price (including Mother's stone) – $49.95 – each children's birthstone adds $10.00 to the cost of the pendant. (The pendant similar to the one shown above, with 3 children's stones would cost $79.95)

Please click on the the photo above, to order for delivery in time for Christmas
Then, enter the mother's birthstone first and then the children's birthstone in order of birth (1st, 2nd, etc)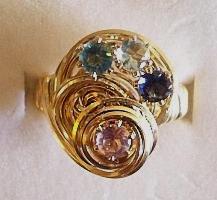 Mother's rings also available – $44.95 Base Price (includes Mother's 6mm faceted birthstone) plus $10.00 for each additional children's birthstone. Please contact me with size, birthstones etc.